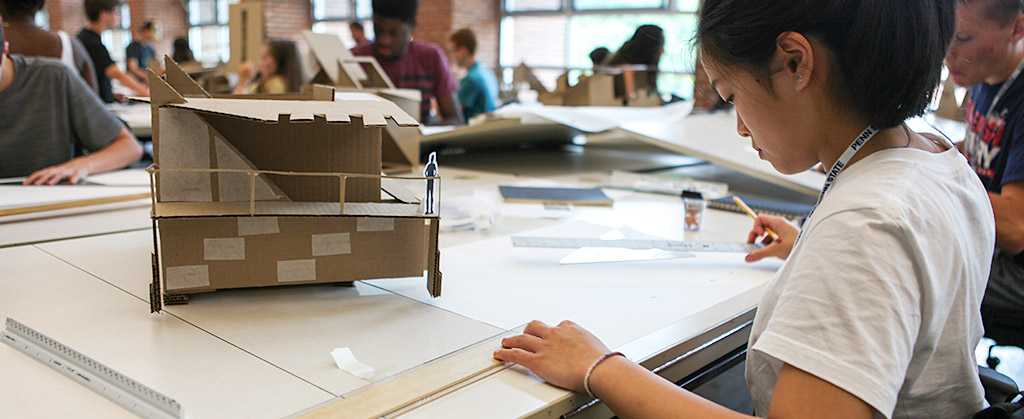 Eligibility and Enrollment
This camp is available for any high school student (entering high school freshman through just-graduated senior). Camp enrollment is limited and filled on a first-come, first-served basis via submission of the registration form and payment.
Fee
The registration fee covers instruction, materials, housing, meals, and any tours taken as part of camp.
Registration Fee: $1,100.00
How to Register
Step 1 – Review with your camper
Read these Standards of Conduct and COVID-19 Guidelines before submitting your registration.
Step 2 – Gather this information before completing your registration
Medical history
Date of most recent tetanus immunization
List of current medications with dosages and time(s) taken
Step 3 – Registration
Camp and the waitlist are currently FULL.
Refunds
If your request to withdraw is received at least 15 business days prior to the first day of the program, we can issue a partial refund. Send your written request by email to PSUconferences@psu.edu. A $50 administrative fee will be charged for each withdrawal.
Important Information for Parents/Guardians
Please review the Youth Programs Ethics and Compliance web page before camp starts. Penn State employees are not permitted to transport or arrange transportation for a minor attending a youth program.
Food allergies must be disclosed to the camp planner in advance at psuconferences@psu.edu or 814-863-5100. Learn more at Penn State Campus Dining or by calling 814-867-5277 or emailing foodallergies@psu.edu.
Penn State encourages persons with disabilities to participate in its programs and activities. If you anticipate needing special accommodations or have questions about the physical access provided, please contact the camp planner at psuconferences@psu.edu or 814-863-5100 at least four weeks prior to your arrival.
Penn State is committed to equal access to programs, facilities, admission, and employment for all persons. It is the policy of the University to maintain an environment free of harassment and free of discrimination against any person because of their actual or perceived age, race, color, ancestry, national origin, sex, sexual orientation, gender, gender identity, physical or mental disability, religion, creed, service in the uniformed services (as defined in state and federal law), veteran status, marital or family status, pregnancy, pregnancy related conditions, genetic information or political ideas. Discriminatory conduct and harassment violate the dignity of individuals, impedes the realization of the University's educational mission, and will not be tolerated. This access is extended to all university sponsored youth programs, including 4-H.
The needs of any participant in a youth program will be discussed privately with that child's parent/legal guardian on a case by case basis with the goal of promoting a safe environment and quality experience. If you have any questions, please contact the program manager Karen Dinunzio at kxd20@psu.edu.
Confidentiality
For legal reasons, the University cannot release the names or phone numbers of other participants, not even to those who want to carpool.
Scholarships
Inquiries regarding the application procedures for scholarships (based on financial need and/or cultural diversity) should be sent via email to Curt Marshall at cem2@psu.edu. Scholarship awards will be credited to the student following enrollment in the program. Your electronic receipt will show a balance due. Scholarships will be paid by the sponsoring agency. You will not receive a bill for the scholarship.
For general consideration, students may wish to explore local opportunities for funding, such as community organizations and do-it-yourself fundraising websites.