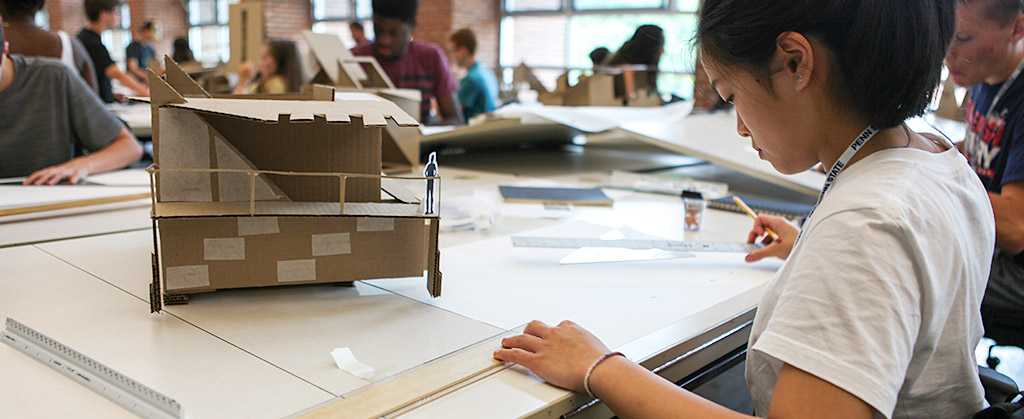 The Architecture and Landscape Architecture Virtual Camp is for interested high school students (entering ninth graders through just-graduated seniors). 
Online Registration (CLOSED)
Registration for the 2021 camp is now closed.
Email Ann Goeke at agg12@psu.edu if you would like to be placed on the 2022 Penn State Architecture and Landscape Architecture Summer Camp notification list.
Consents and Codes of Conduct
A link to the Consents and Codes of Conduct questionnaire will be emailed to you upon registration. Completion/submission of this form is required for registration to be complete.
Fee
The registration fee of $500 covers access to lectures, virtual tours, and live question and answer sessions with faculty, students, alumni, and administrators from Penn State Stuckeman School of Architecture and Landscape Architecture.
Eligibility and Enrollment
This camp is available for any high school student (entering high school freshman through just-graduated senior). Camp enrollment is limited and filled on a first-come, first-served basis via submission of the registration form and payment.
Refunds
If your request to withdraw is received at least 15 business days prior to the first day of the program, we can issue a partial refund. Send your written request by fax to 814-863-5190 or by email to PSUconferences@psu.edu. A $50 administrative fee will be charged for each withdrawal.
Confidentiality
For legal reasons, the University cannot release the names or phone numbers of other participants, not even to those who want to carpool.
Scholarships
Inquiries regarding the application procedures for scholarships (based on financial need and/or cultural diversity) should be sent via email to Curt Marshall at cem2@psu.edu. Scholarship awards will be credited to the student following enrollment in the program. Your electronic receipt will show a balance due. Scholarships will be paid by the sponsoring agency. You will not receive a bill for the scholarship.
For general consideration, students may wish to explore local opportunities for funding, such as community organizations and do-it-yourself fundraising websites.

Access and Safety
Penn State encourages persons with disabilities to participate in its programs and activities. If you anticipate needing special accommodations or have questions about the physical access provided, please contact the conference planner at 814-863-5100 at least two weeks prior to your arrival.
All Penn State youth programs have policies in place to ensure the safety of youth participating in our programs, activities, and services is not compromised.